Jurassic World: Dominion Dominates Fandom Wikis - The Loop
Play Sound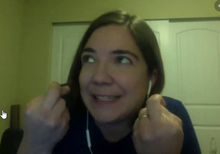 Rebecca Vitsum accused David Silverman touching her sacrum without her permission, her thoughts about the matter and her court hearing endeavoring to get a restraining order against David Silverman.
David Silverman has been suspended by AAI pending an investigation into an alleged inappropriate touching incident which allegedly occurred against the atheist woman Rebecca Vitsmun[10] Silverman contends that he did not inappropriately touch Rebecca Vitsmun.[11] Rebecca Vitsmun filed a restraining order against Silverman, but the judge denied her petition because the judge did not see a pattern of sexual harassment against her by Silverman. However, Vitsmun has filed a battery charge against Silverman with the police and the case is still pending
Rebecca set up David Silverman. I believe that because he did not act inappropriate, which I believe was there the girls intent was to get him to a party and witnessed him behaving and appropriately there for backing up the other two complaints because she personally knows those women. I believe since nothing happened inappropriately at the party at the two were left to devise something that occurred well remember when he rubbed your back or touched your back or whatever will have to go with that one. I do believe at some point she started to believe her story I do not believe that at the intent was there and you must have been tense shit for it to be an assault. I believe that Rebecca is ruining she is part of the problem with me to movement. She's overly dramatic present signs of borderline personality which would back up the fact that she's had some trauma in her past, I have no doubt that she has. Just because somebody has had trouble in the past is not means everybody comes in contact with you when you appear to be crippled and needing help when somebody walks up to you and ask if you need help and touches you her turning that into a sexual salt and making such a big deal about it should be a crime.